Back to news
Our top 3 winter themed door decoration ideas
10 December 2021 |Help and Tips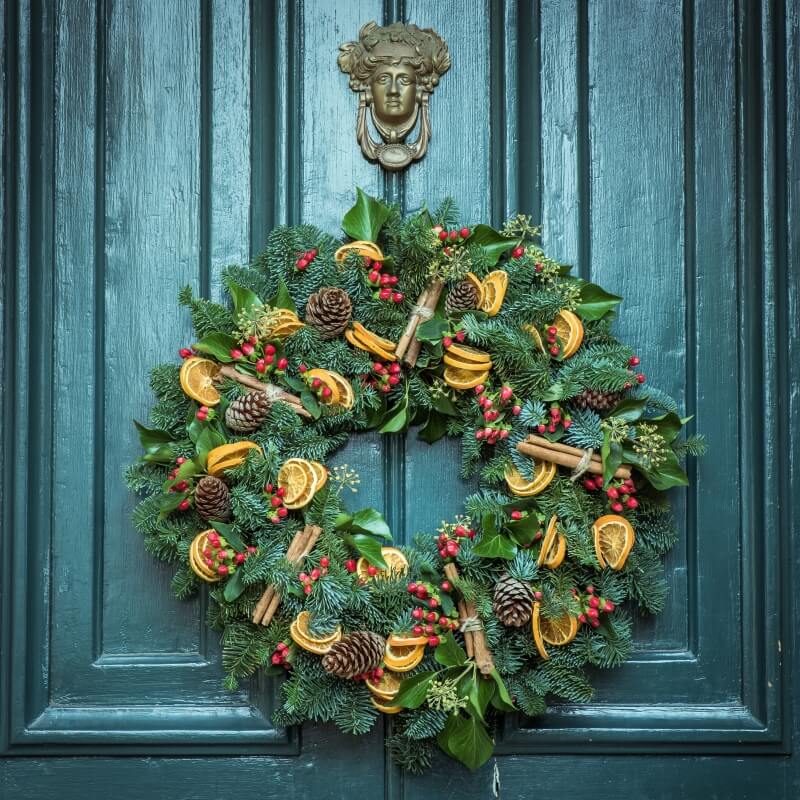 Getting Christmas and winter decorations just right is high on the 'to do' list for many homeowners this month. Providing a healthy distraction from the pandemic uncertainty, decorating your home is both uplifting and enjoyable.
It's likely you've focused on decorating the inside of your home but what about the outside? Namely, your front door and porch space?… Don't worry if you've forgotten to decorate your entrance space, as we've come up with three winter themed door decoration ideas you're sure to love!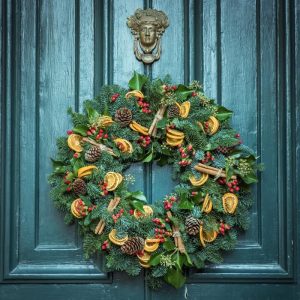 1. Eco-friendly door decorations
2021 has been the year for sustainability, so why not consider adding some striking sustainable flourishes to your winter door decorations this year? A 'green' winter theme is a great way to incorporate on-trend biophilic touches too. Literally meaning 'love of nature', from high performance uPVC and composite doors to gorgeous timber doors and premium aluminium doors, shift your mindset towards a more environmentally friendly way of decorating this year. Here are some ideas to get you started:
Ditch your plastic wreath for a handmade creation made from stunning winter foliage, such as holly, ivy, evergreen yew, privet, and dried fruits.
Adorn your porch space with Christmas plants, such as classic Poinsettias and Christmas cacti.
If you don't have the time to create your own, source door decorations with respected sustainability logos like Fairtrade, Rainforest Alliance, and Forest Stewardship Council (FSC).
2. Vintage door decorating ideas
If your home is Georgian, Victorian, Edwardian, or more traditionally styled, vintage winter door decorations add a timeless elegance that everyone can appreciate. Think about:
Nordic-inspired winter door decorations
Nordic/Scandinavian style décor is minimalist yet warm and inviting. Emphasise clean lines and beautiful simplicity with a mix of monochrome, subtle, and muted colours; whites, greys, blacks, creams, peaceful pastels, and sophisticated dusty shades. Accompanied by vintage glass baubles, a sprinkling of cross stitch, a dash of repetitive shapes and patterns (e.g., reindeers), and a scattering of hearts and stars – Voila! Your perfect Nordic-inspired winter door is complete!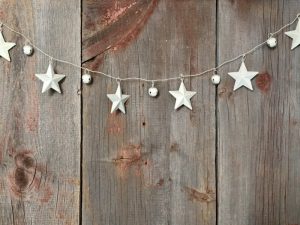 If you're going for a more rustic, nostalgic ambience, Cottagecore is a budding aesthetic movement of 2021 that will work beautifully for winter decorations too. Also known as Farmcore and Countrycore, Cottagecore celebrates an idealised rural life. So, get crafting your very own Cottagecore entranceway with understated pastels, woodland wildlife and foliage, and floral, checked, and striped textiles. To get you started, a dreamy flowery wreath looks especially eye-catching on an authentic wooden entrance, as well as woodgrain effect door panels.
3. Modern winter decoration ideas
If your home is more contemporary in style, or you like the idea of adding a modern edge to a heritage home, why not take inspiration from this years Pantone colours of the year; Ultimate Gray and Illuminating (yellow). This zingy fusion works really well together, as grey tones down the vibrancy of yellow whilst yellow give cool-toned greys a much-needed lift. Bright yet conventional, optimistic yet grounding, from handmade yellow and grey garlands and contrasting yellow Poinsettias beautifully arranged around a grey front door to a gorgeous grey and silver wreath with matching garlands to frame a vibrant yellow front door, there are no limits to what you can achieve with grey and yellow winter door decorations!
Gain more inspiration from our winter door decor Pinterest board
Sustainable home improvements near me in Maidstone & Kent
Endeavouring to offer households the most sustainable, energy efficient products we can, making your property as thermally efficient as possible with low-impact, high performance windows, doors, conservatories, and extensions is easy with FineLine behind you.
To find out more, visit your nearest FineLine show centre, call us on 01622 631 613, or get in touch online.