Back to news
Choose a green front door to match your natural home decor
21 September 2021 |Help and Tips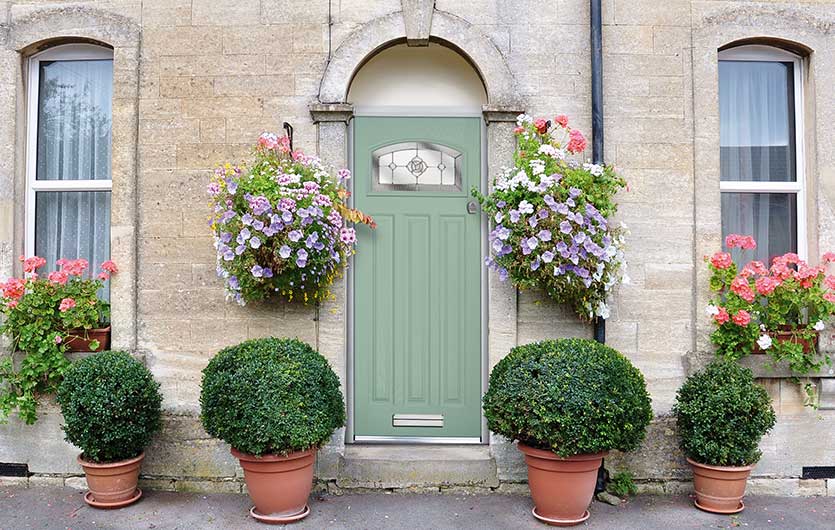 If your home décor is naturally styled, you might think you have no other option but to go for a classic wooden entrance door. But this just isn't true! Why not consider adding a timeless shade of green to add that pop of colour your entrance door is decidedly missing? Green entrance doors work well with modern and Victorian properties as green compliments red brick beautifully. With this in mind, here is a selection of shades of green to add kerb appeal to your home.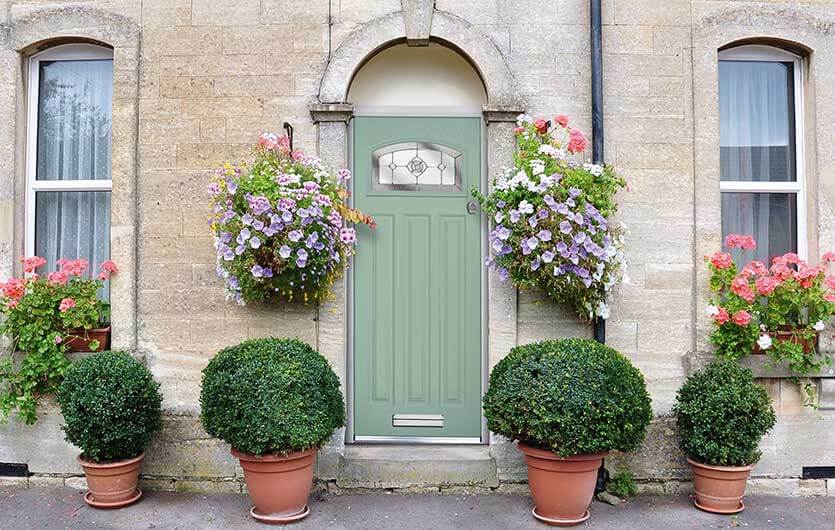 What does a green front door symbolise?
Colours that are seen in nature often work well together to provide a consistent look to your home. If you have chosen to use a lot of browns, beiges and creams within your home and you're drawn to a more natural style a green front door could be perfect for you. Green front doors paired with a natural décor create an earthy, welcoming environment that can promote peace and tranquillity, which will add kerb appeal to your property and attract potential buyers.
What shade of green is trending?
When choosing a shade of green for your new front door it's good to look at both classic and modern colour options. You should consider what feel you're trying to add to your home, as different shades of green can promote different environments. Remember dual colour is always an option, you can choose a shade of green for the exterior of your front door whilst keeping it neutral on the interior. This allows you to create two separate environments using one feature.
Pale green front doors
Going for a muted shade such as Sage or Chartwell Green looks particularly striking against soft creams and beiges. These shades can look soft when used on timber doors. Did you know you can add foils to uPVC doors that can create a wooden door effect? If you have a more neutral tone to your interior, opt for a pale green that compliments your home whilst still adding a pop of colour – such as Pastel or White green.
Subtle green front doors
uPVC and composite doors allow you to choose from hundreds of RAL colours so why not try something like Olive green. Olive sways closer to brown if you're unsure about using a lot of colour. The tones paired with a warmer toned natural décor create a very consistent feel to your home. If you have a white façade don't be afraid to choose an Olive green front door as this can be a beautiful colour combination, as can grey and Olive.
Deep green front doors
If you have a lot of dark woods and deep earthy tones around your home, try a deeper Forest or Fir shade. Using a darker shade will make your new entrance door stand out amongst your interior whilst still complimenting the mood. For a modern look try a Forest green aluminium front door, it has a sleek and slimline design. You do have the option to choose a dual colour option too where you could have Cream on the interior and Black green on the exterior.
Front door frame options
Don't forget you can also customise your door frame colour to compliment the shade of your front door. A classic white always looks good with Chartwell and Pastel green, for a more muted shade. Rich browns look great with Forest green. Wooden doors look particularly good with contrasting frame colours.
Front door glazing options
Including some glazing within your front door design can really suit natural interiors as it allows more light to pour in, creating a more inviting atmosphere. There are a huge array of styles to choose from, but some of the main features available are partially glazed and toplight panels, as well as the option to include coloured, etched, patterned, or stained glass. Bespoke door glazing can bring a more modern appearance to your home with ease.
Gorgeous green entrance doors in Dartford, Maidstone, Kent & South East homes
At Fineline Windows, we have a large selection of green shades to choose from in a variety of styles for your front door. Contact our team today or visit one of our showrooms to learn more!
Check out our sister company's Pinterest board for inspiration!