Back to news
3 modern window styles and colours for your home in Kent
8 April 2021 |Advice & Guidance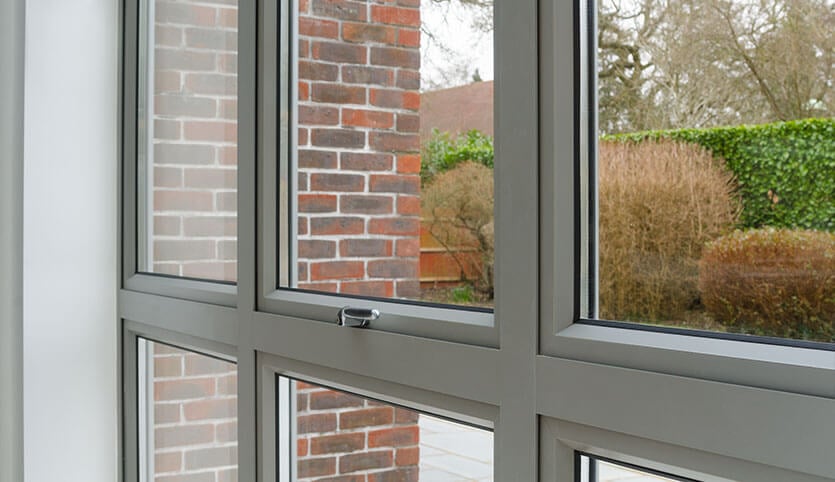 Other than reliable white windows, natural wood finish windows have been a firm favourite throughout a variety of property styles in Kent for as long as we can remember – from character properties in Maidstone to contemporary homes in Gillingham.
Focusing our attention to the latest colour trends for replacement windows in Kent and the surrounding area, there appears to have been a notable shift – with woodgrain window effects, organic oaks and rustic browns taking a back seat when it comes to personalising new window frames.
So, if you're thinking about updating the look and performance of your South East home with modern windows, here are 3 modern window styles and colours you need to know about before making your final decision.
1. Minimalist aluminium windows in various shades of grey and black
Available as casements windows, tilt & turn windows, bay windows and bespoke windows, homeowners in Kent choose aluminium windows over other window materials when they require less frame and more glass.
Complementing virtually any setting, their minimalist frames look particularly striking in contemporary-styled developments and refurbishments. Achieving the slimmest sightlines possible, another benefit of modern aluminium windows is they can be customised in over 150+ RAL colours. In line with minimalist, luxury interior design and décor, favoured aluminium window styles and colours of the moment include edgy Anthracite Grey aluminium casement windows, sophisticated black bay windows, softening Agate Grey bespoke windows, and light interior/dark exterior dual colour tilt and turn windows.
2. Refreshing uPVC windows in white, green and cream
Chosen for their competitive practicalities, uPVC window styles include casement windows, sliding sash windows, tilt & turn windows, bay windows and bespoke windows.
This highly adaptable window material has gone from strength to strength in the last few decades, with the days of white uPVC windows and doors being the only option long gone! With over 150+ RAL colours and a variety of authentic wood effect finishes to choose from, popular uPVC window colours and styles in Kent include sleek grey uPVC windows, charming Cream uPVC sliding sash windows (RAL 9001), tranquil Chartwell Green uPVC casement windows (closest match: RAL 6021), and off-white shades such as Oyster White (RAL 1013), Papyrus White (RAL 9018), Grey White (RAL 9002) and White Aluminium (RAL 9006).
3. Smooth finish timber windows
Boasting the longest lifespan of any window material, timeless timber window styles include casement windows, sliding sash windows, bay windows and bespoke windows.
If woodgrain effect windows are not as popular as they once were, what about timber windows?… Well, our customers are turning to smooth finish timber windows for a satisfying contemporary touch to traditional heritage aesthetics. What's the reason behind this surprising shift in consumer demand, we hear you ask? There's no getting away from the fact that woodgrain effect windows can sometimes appear dated, whereas smooth finished windows complement a wide range of building styles. Smooth finish timber windows can also replicate the modern look of aluminium windows for the best of both worlds. Smooth finishes are popular when it comes to customising aluminium windows and uPVC windows too.
Available in over 30 colours, fashionable timber window colours and styles in the South East include sleek black timber casement windows with Georgian bar detailing, elegant cream timber sliding sash windows, and neutral light grey timber bay windows.
High performance, low maintenance replacement windows tailored to homes in Maidstone, Gillingham, Dartford & Kent
If you like the sound of our colourful range of high-quality windows, visit our in-store displays at our Dartford and Maidstone showrooms or contact us for further information on any of our windows, doors, conservatories or roofline products.