Back to news
Four grey front door ideas to modernise your home
21 April 2023 |Advice & Guidance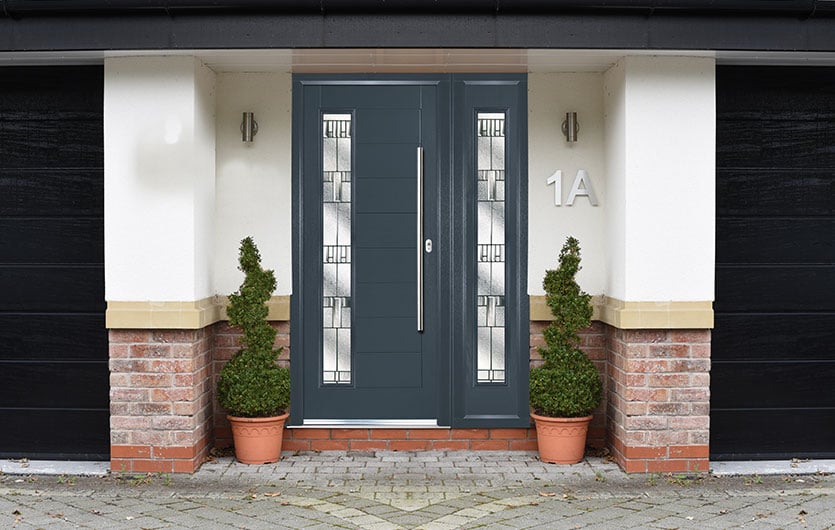 In recent years, UK homeowners have been able to choose from a wide range of front door colours and greys have gained popularity due to their elegance and contemporary aesthetic.
Darker shades of grey, such as Anthracite, Slate and Charcoal, add a modern and bold touch to your entrance. On the other hand, lighter shades like Dove and Agate Grey create an inviting and bright exterior to your home.
The finish of your front door is another crucial factor that affects the overall look of your property. A matt grey front door can give the feeling of sophistication and modernisation, while finishes like wood grain can add texture and warmth to your entrance way
At Fine Line Windows, we offer a multitude of front door colours and materials to suit your personal taste and preference. Our team will guide you through some of the most popular options available and help you select the perfect front door for your home. With our expert assistance, you can achieve your ideal entrance that complements your unique style and enhances your home's kerb appeal.
What does a grey front door mean?
The colour grey has long been associated with modesty, balance and practicality. These qualities can translate into a home that values functionality as well as style. When it comes to using grey as a front door colour, interior design experts consider it a sophisticated, on-trend, and contemporary choice. The understated elegance of a grey front door can make a strong first impression and complement a wide range of architectural styles.

What shades of grey are popular?
At Fine Line Windows, we offer a diverse selection of greys, ranging from ones with subtle hints of blue and green, to warmer hues with undertones of red and brown. Our offering consists of some of the most sought-after grey front doors, which include the following popular shades:
Anthracite Grey front doors
Anthracite coal is a type of rock that appears very dark and is actually black, even though it appears to look dark grey. The name 'anthracite grey' comes from the coal's deep, dark shade, which is achieved through its shiny enamel. This dark grey colour is one of the darkest shades of grey on the market.
Anthracite grey front doors have a unique blend of blue and deep purple undertones, giving them a beautiful appearance that suits virtually any property. These front doors offer a modern and sophisticated touch to any home.
Slate Grey front doors
If you would prefer a dark grey door that is a slightly lighter shade than anthracite, then slate grey could be your answer. The cool-toned colour is ideal for a door that is still dark, but with a softer feel. Slate grey incorporates both cool and earthly undertones, making it another versatile choice that suits various types of stone and brick.
When paired with red brick, the earthy red tones become more prominent, adding a cosy feel to the home's entrance. In contrast, when paired with a cooler brick or stone, the blue hues become more noticeable, lending a fresh and modern vibe to your front door. No matter the combination, slate grey front doors are a trendy option.
Agate Grey front doors
Agrate grey is a combination of a pale grey, light green, creating a grey creamy colour. This incredibly popular colour has a bright and airy hue that provdes a calming and relaxing aesthetic. It makes a welcoming entrance to your home, without the need for making a bold or loud statement. Agrate grey front doors give a seaside feel, and exude lightness, happiness and a peaceful vibe.
Stone Grey front doors
Due to its warm undertones and subtle hints of browns and oranges, stone grey is another popular choice among homeowners for their new front doors. This rich colour, which is created combining shades of yellow and beige, pairs well with wood-effect front doors. Its calming colour brings a clean and modern feel to any home's entrance. This versatile colour has the ability to soften a home's exterior, whilst also creating an inviting and relaxing ambience when brought inside the home.
FAQs
What types of grey front doors do you offer?
At Fine Line Windows, we take pride in offering a vast array of front door options to our valued customers. Whether you're looking for a door that adds excitement to your home or something simple and functional, we've got you covered. Our range of grey front doors includes uPVC, composite, and aluminum options.
What do uPVC grey front doors offer?
Looking for an affordable, secure and thermally-efficient grey front door? Our uPVC doors are the perfect choice. With multi-chambered profiles, they effectively break up currents of cold air, keeping your home warmer during cold winter months.
There are over 150 RAL colours to choose from, with grey being one of the most popular choices in recent years.
What do composite grey front doors offer?
Our composite front doors are designed to offer not only enhanced security, but also exceptional thermal efficiency. They have a robust composition, with a dense core made of timber of uPVC, giving them both strength and resistance.
With our composite doors, you have the option of a variety of grey shades, and a range of wood effects. You also have the option for a dual coloured design.
What do aluminium grey front doors offer?
If you prioritise insulation, security and durability in your search for a grey front door, then an aluminum door should be your top choice.
With their thermally broken frames, these doors keep warmth in and cold out, helping to maintain a comfortable temperature year round.
You can customise the look of your aluminium door by choosing from a range of grey colours on offer. The choice of smooth or woodgrain finish will further personalise your new front door.
What is the most welcoming front door colour?
The most welcoming front door colour will depend on your personal preference and the overall look you are trying to achieve. Popular colours for front doors include shades of red, blue, green, yellow, and gray.
Red is a classic choice that symbolises warmth and hospitality, while blue can add a sense of calm and security to your home. Green is an inviting shade that represents growth and renewal (read our blog on choosing the right shade of green door), while yellow can bring feelings of joy and optimism. Gray is a modern colour that adds sophistication to any space. Whatever colour you choose, make sure it complements the rest of your home's exterior so it looks cohesive and inviting.
If you need further assistance in choosing the right grey front door for you, please don't hesitate to contact us.