Back to news
Is it worth putting a new roof on my conservatory?
6 June 2023 |Blog
Conservatories are popular additions to many Kent homes, providing a versatile and light-filled space. However, one common issue with conservatories is their roofs. Over time, roofs can deteriorate, meaning a conservatory is unbearably hot in the summer and freezing in the winter. This can lead homeowners to question whether it's worth investing in a new roof for their existing conservatory. If you are thinking along the same lines, then read on to explore the benefits of putting a new roof on your conservatory and help you make an informed decision about whether it's worth the investment.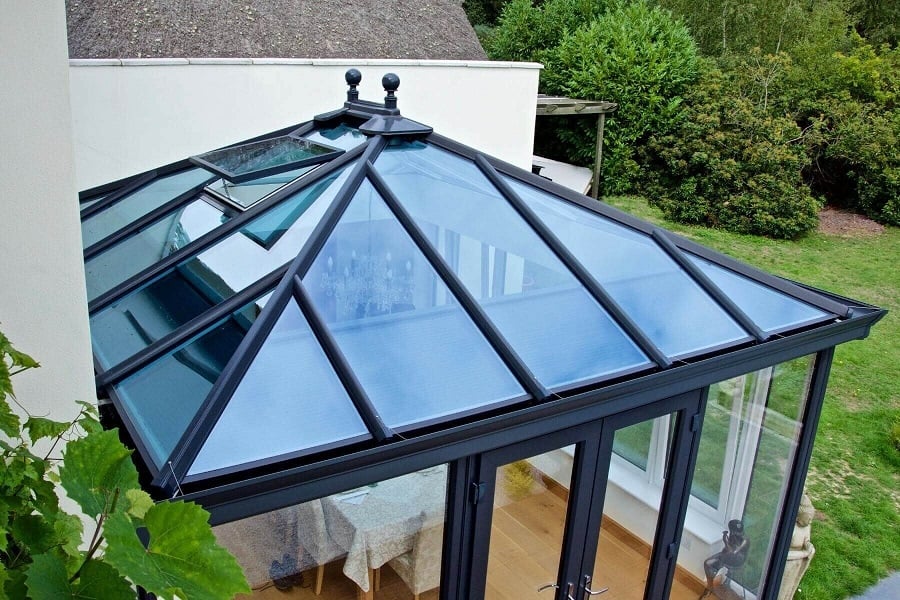 Enhancing energy efficiency
Older conservatories often have roofs that lack proper insulation, making them susceptible to wild temperature changes. In colder months, heat loss can be significant, leading to increased heating costs. Conversely, during summer, excessive heat can build up, making the conservatory uncomfortable to use. By installing a new roof with improved insulation, you can enhance energy efficiency, reduce heating and cooling expenses, and create a more comfortable living space that you can enjoy all year round, regardless of the weather.
Enhanced aesthetics
A new roof can dramatically improve the appearance of your conservatory. If your existing roof looks outdated or worn, installing a new roof can transform the overall look of the structure. You can choose from a wide range of designs, styles, and materials to complement your home's architecture and personal taste. A tiled replacement conservatory roof is indistinguishable from real tile and will look like it has been part of your house for years, while a glass replacement conservatory roof will flood your conservatory with natural light. A solid replacement conservatory roof combines the best of both, letting gin natural light while being more private, while a lantern roof can add a real wow factor to your existing conservatory.
A cost-effective solution that adds value
While putting a new roof on a conservatory involves a financial investment, it can be a cost-effective solution in the long run. Repairing an old roof repeatedly may become more expensive over time, especially if the damage is extensive. By opting for a new roof, you can address underlying issues and prevent further damage, potentially saving money on future repairs and maintenance. And it's also important to remember that a visually appealing roof can add value to your property, making it a worthwhile investment if you plan to sell your home in the future.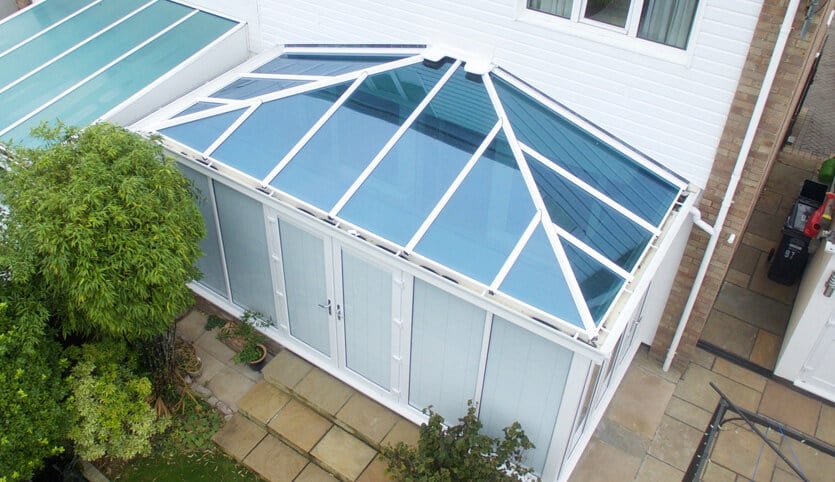 What conservatory roof replacements can you choose?
You can choose from a wide range of designs styles and materials to complement your home's architecture and personal taste, including a glass roof, tiled roof or solid roof to make your conservatory roof as bespoke as you want.
What is a glass conservatory roof?
Designed using high-performance glass, a glass roof consists of large panels of thick glazing which lets in maximum natural light while providing fantastic thermal efficiency. The glass is solar-controlled to deflect the heat of the sun when it gets to a comfortable temperature in the summer, and self-cleaning, thanks to a process that uses the sun's energy to burn off any dirt while an invisible coating helps remove any debris.
What is a tiled conservatory roof?
Available in attractive slate and brick finishes, a tiled conservatory roof consists of lightweight but durable composite tiles instead of glass for outstanding thermal efficiency. They provide unbeatable protection from harsh weather and can be installed to seamlessly blend with the exterior of your current home's style to make it look like your conservatory has always been there.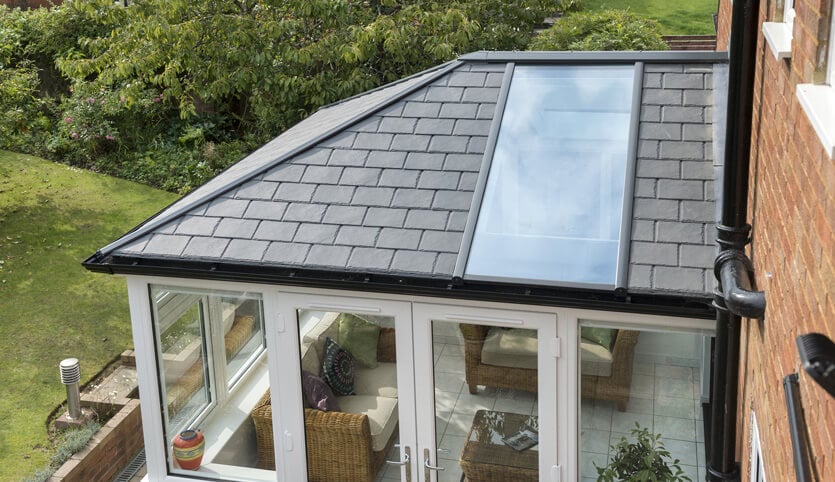 What is a solid conservatory roof?
A solid roof replacement combines composite tiles and glazing panels so you can let in more natural light while retaining privacy. The high performance roofing system lets you enjoy large areas of glazing with solid sections, and you can vary the glazing to solid ratio to suit your needs.
Conservatory roof replacement in Maidstone, Dartford, Sevenoaks, Tonbridge
Putting a new roof on your uPVC or aluminium conservatory at your Kent home offers numerous benefits that make it a worthwhile investment. From improving energy efficiency and increasing year-round usability to enhancing aesthetics and ensuring longevity, a new roof can transform your conservatory into a functional and attractive space. Thanks to 50 years experience, our exceptional team can help you choose the right conservatory roof replacement for your existing conservatory and tailor it more to your property. So, why not take a look at our seasonal offers on our replacement roofs and visit your closest state-of-the-art FineLine showroom to view our high-quality conservatory roofs, or contact us to speak to our team today?