Back to news
Best front door 2022? Here's 6 reasons why Composite Doors are still on top!
30 July 2020 |Advice & Guidance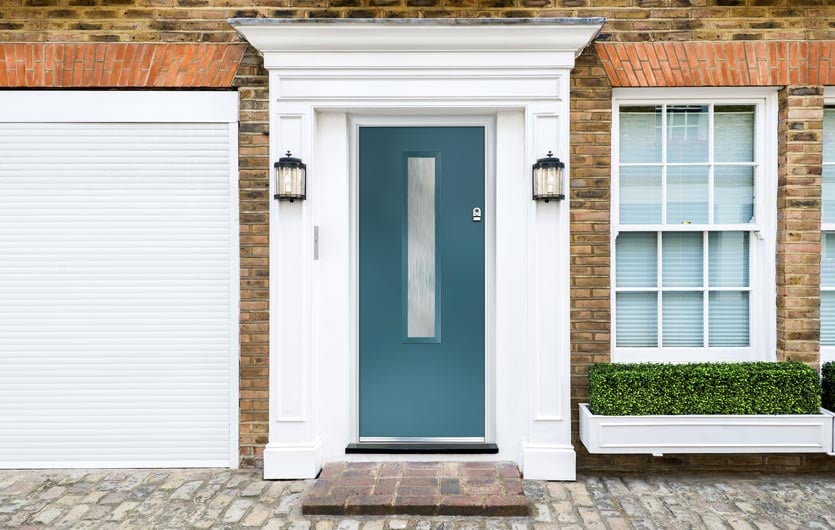 If you're looking for a new front door, you may be asking which external door material is best. They are generally available in composite, uPVC, timber effect and aluminium; all of which provide an array of designs and high performances, but when you compare the specifics, composite is always a top choice!
Here are 6 reasons why composite doors are the best front door choice:
1. Versatile colour and style configurations
2. Durable and highly secure
3. Excellent thermal insulation performances
4. Weather-proofed for tough climates
5. Low maintenance finish
6. Keeps external noises out

1. Versatile colour and style configurations
Composite doors benefit from modern manufacturing processes, meaning that they can be uniquely designed for each and every homeowner. The beauty of composite is that the skin can be finished in either a smooth or woodgrain texture, so they can achieve both contemporary and traditional designs.
At Fineline, we offer 150+ RAL colours, with some of the most popular composite door colours including anthracite grey, black and Chartwell green. So, whether you're looking for an authentic heritage front door as an alternative to timber, or a replacement sleek composite door, the options are endless. Down to the finest details, composite doors offer a wealth of customisation options. You could choose to include decorative glass options and a range of door furniture pieces for a bespoke design. No matter the type of property you live in, we'll be able to design the perfect composite door style to suit your personal preferences.
2. Durable and highly secure

When looking for a new front or back door, home security is a priority for any property owner. With a modern composite door, you'll have complete peace of mind that your home is protected as they excel in their security performances. Unlike other poorer quality door materials, composite has an integral strength that will keep unwanted intruders out.
We fit all of our composite doors with industry-leading Yale multi-point locks as standard. They're the most reputable locking systems on the market, and when paired with a solid composite structure and a dense polyurethane foam core, our collection of composite doors offers unparalleled levels of home security.
3. Excellent thermal insulation performances
Composite combines several materials, boasting superior energy efficiency abilities. The core fuses timber and uPVC materials, resulting in an extremely insulating thick core. They also benefit from laminated layers and a high-performance GRP skin which adds further insulation, meaning they can achieve U-values of 1.4W/m2k.
With a replacement composite door, you'll instantly notice that the draughts are kept out of your home and the warmth is retained, saving you money on your heating bills. For eco-conscious homeowners, composite is an excellent solution to help to reduce your home's carbon footprint as energy wastage is minimised.
4. Weather-proofed for tough climates
Composite doors have a thick core which is highly robust, so they won't weaken or become tired when faced with harsh weather conditions. A Glass Reinforced Plastic (GRP) skin is applied to the exterior of the door frame, which further protects the core from the exterior conditions. Whether it be heavy rain, snow or strong winds, composite doors have proven an outstanding ability to withstand the unpredictable British climate.
If you reside in an exposed property, such as near the coast, a composite door is the perfect replacement door solution. It won't rust, warp or split over its lifetime, even in such extreme environments.
5. Low-maintenance finish
A key benefit of modern composite is that it is essentially maintenance-free. Unlike timber, which needs to be treated with wood varnish to protect the natural elements, composite keeps performing like new without any upkeep. This makes it an ideal choice for the busy lifestyle of modern homeowners nowadays as you can enjoy comfort in that it practically looks after itself.
To keep the door looking like new, we simply suggest wiping down the frame every so often with a damp cloth to remove any dirt. The GRP skin stops the colour from fading too, so over its lifespan, you'll be able to enjoy a beautiful front or back door that will last for at least 35 years.
6. Keeps external noises out  
A common issue with older doors is that they let the outdoor noises in, spoiling the peace and quiet that every homeowner desires. With high-performance composite, problems like this will be a thing of the past.
The same methods which mean they excel in their energy efficiency also help with minimising noise pollution. The thick core that combines timber and uPVC, and our advanced double glazing or comfort glass, will stop the noise from outside entering the home, ensuring for a comfortable atmosphere within your home. If you live near a busy road or airport, composite is one of the best choices in terms of keeping the external noises outside.
If you're interested in upgrading your front or back door to a composite entrance door, why not get in touch with us on 01622 631613 or contact us online. Our double glazing showrooms in Dartford or Maidstone also display a large range of composite door colour and style configurations, so you can get a feel for the range of designs on offer and speak to one of our experts.