Back to news
Tiled conservatory roof vs glass – What's the difference?
20 May 2022 |Advice & Guidance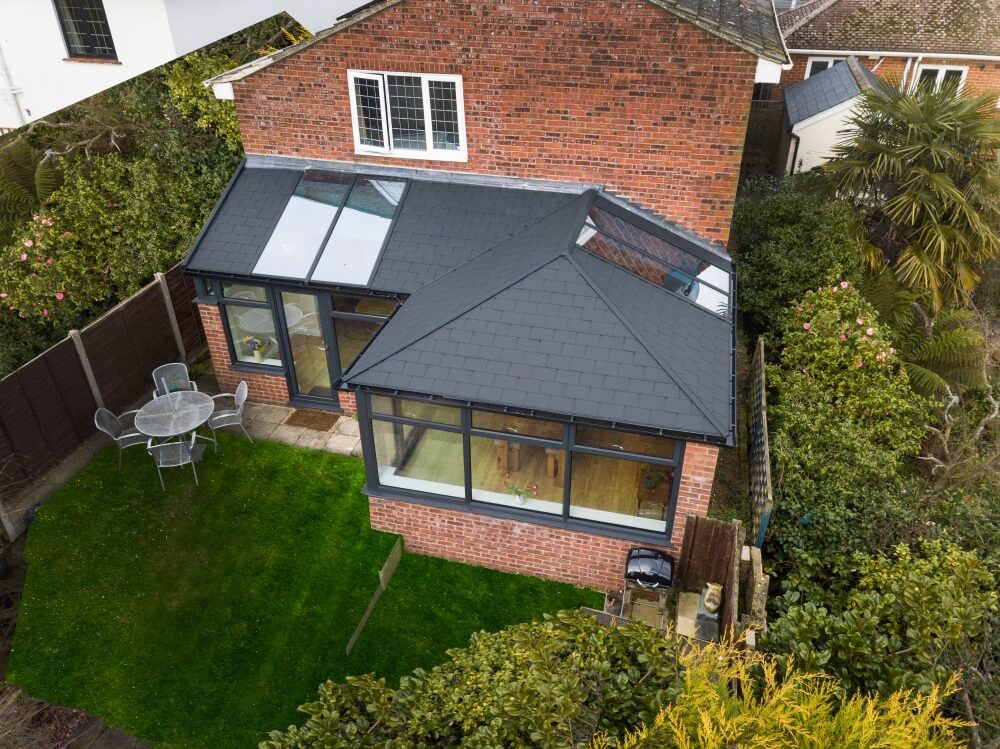 It may surprise you to learn that conservatories still reign supreme when it comes to the best return on investment, delivering enviable ROIs up to 108% in some cases. With regulations tightening to help us all meet strict carbon reducing targets by 2050, no wonder more and more homeowners in Kent are looking for economical and efficient ways to bring their old-fashioned conservatory spaces back to life.
So, if you're one of many UK homebuyers planning an exciting conservatory installation or refurbishment this year, have you decided on the roof style yet?… If the answer is no, by the end of this blog you will have more of an idea of the conservatory roof style that's best for you and your home.
What is the best type of roof for a conservatory?
Are tiled conservatory roofs any good?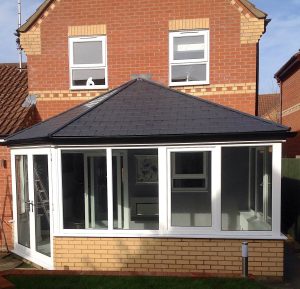 The best conservatory roof depends on a range of individual factors, from the style of property to the position of your existing conservatory. Suitable as roof upgrades from glazed roofs or new-build conservatories, orangeries, and extensions, matching the rest of your home is easy with a Fineline tiled conservatory roof installation.
Crucial advantages you need to be aware of include:
Outstanding U-values as low as 0.15 (up to 10 times better than A+ rated windows!)
A range of customisations, including authentic slate and tile options
A durable roof option that allows impressive entrance spans up to 5.8m above sliding or bi-fold doors without costly and unattractive additional support issues
Looks more like an extension
Enhanced privacy
Better acoustics.
Is a glass roof good for a conservatory?
Naturally brightening the space and allowing you and your family to enjoy glorious views of your garden, modern glass conservatory roofs (like ours!) seamlessly entwine classic sightlines with advanced thermal performance.
Adaptable and stylish, when you choose a glazed conservatory roof you can look forward to:
A+ energy ratings
Low maintenance self-cleaning and solar control abilities
Eliminates the 'too hot in summer, too cold in winter' scenario
Thoroughly tested to withstand harsh weather conditions
20% better noise reduction than older-style glazing
Panoramic possibilities.
Tiled conservatory roof versus glass conservatory roof
To help you out, we've created this quick reference comparison table:
| | | |
| --- | --- | --- |
| / | Tiled conservatory roof | Glass conservatory roof |
| Colours | Antique Red, Burnt Umber, Charcoal, Ebony, Moss Green, Brick Red, Chestnut Brown, Pewter Grey, Plum, or Stone Black | Cool blue tint / Deep blue tint |
| Glazing Options | Roof lights and glazed panel options | Double glazing, solar-control, self-cleaning and decorative |
| Energy Efficiency | 0.15 U-value | 1.0 U-value |
| Average Life Expectancy | 50 years | 25 years |
| Suitability | All property styles | All property styles |
Energy efficient conservatory roof replacements in Maidstone & Kent
Whether you're making the most of a tired conservatory space or you're starting a completely new single storey extension project from scratch, we're confident we can make your refurbishment dreams come true this year. Visit your nearest Fineline showroom, contact us online, or call us on 01622 631613 to find out more about how we can help.