Back to news
Is a Fensa certificate a legal requirement for windows?
27 November 2018 |Advice & Guidance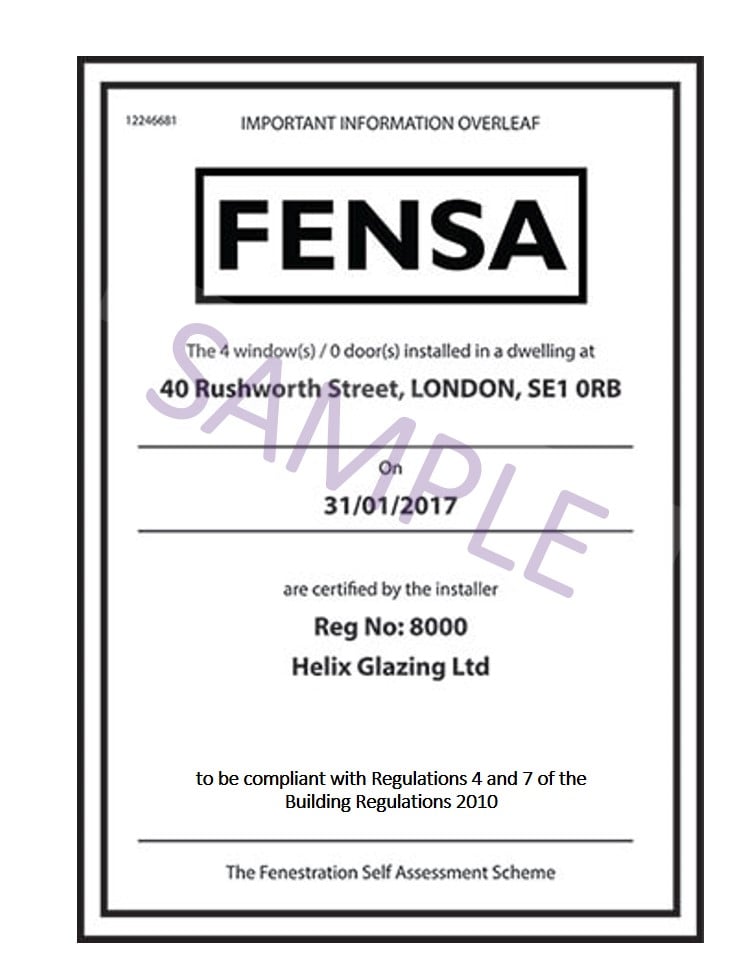 Planning on upgrading your windows any time soon? If so, there are a variety of ways to tell whether a double-glazing installer is properly equipped to do a sterling job, as well as being reliable and trustworthy. You may have already begun your research into local glazing installers and stumbled across the term 'FENSA', which has left you scratching your head as to what exactly it means and what is FENSA? Don't worry, you're not alone! Sit back and relax and let us explain what FENSA is and why it's important to acknowledge for replacement window projects.
What is the Fensa register?
What does FENSA stand for? FENSA stands for 'The Fenestration Self Assessment Scheme'. It was initiated after the government launched the new Building Regulations for double-glazing companies back in 2002. Covering the replacement of external uPVC windows, doors, roof windows and roof lights in England and Wales, FENSA registered installers show homeowners that they meet the minimum standards of quality and compliance expected from today's glazing industry.
What is FENSA?
The Fensa register collates a list of accredited double glazing installers across England and Wales so that homeowners can ensure they are choosing a reputable and experienced home improvements company. Registered with the government, the Fensa register assures that the double glazing installer is professional, complies with building regulations and offers an insurance backed warranty, for ultimate peace of mind.
When did Fensa start?
Fensa was first initiated on 1st April 2002 by the government. That's why, as of 1st April 2002, you need a Fensa certificate or Building Regulation Completion Certificate if 40% or more of the window is made from glass panels.
What is a Fensa certificate and do I need a Fensa certificate?
A Fensa certificate is your guarantee that the double glazing installer who fitted your new windows and doors has abided by Building Regulations and local requirements also. A Fensa certificate also means that your installation has been registered with your local council by the installation company, which are legally required when you are selling your home. A Fensa certificate is proof of the installation company that is necessary when a property is sold.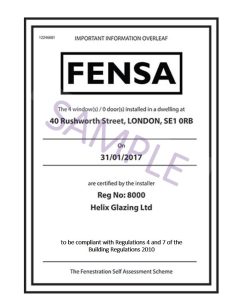 Is a Fensa certificate a legal requirement for windows?
Windows that have been replaced since 1st April 2002 must be supported by a FENSA certificate or a building regs certificate, to show that they legally comply with Building Regulations. It is illegal to have installed double glazing in a property without a building regs certificate, and if proper building control procedures haven't been followed, enforcement notices and prosecution may ensue.
At Fineline Windows, we offer Fensa registered replacement windows and doors – contact a member of the team today to find out more.
How to get a Fensa certificate for my windows?
A Fensa certificate will usually be given to you by the installation company. Fensa certificates usually take around 2-4 weeks to be issued, whereas non-Fensa registered double-glazing installers can take up to 2 months to get a certificate from your local authorities Building Control department.
Keep your Fensa certificate for your windows and doors
If you've had work done on your property and plan on selling in the future, it's imperative that you keep relevant paperwork to disclose to potential buyers. As well as an Energy Performance Certificate (EPC), gas safety compliance certificate and electrical safety certificates, a FENSA certificate for glazed windows and doors should also be kept in a safe place and shown to potential buyers to prove that any building work is regulation compliant – especially homes situated in conservation areas.
Can you sell a house without a FENSA certificate? The answer to this question is no, which is why it is so important to keep your FENSA paperwork. However, if you have lost it or have no certificate for your windows, they can easily be replaced using the official FENSA website.
No Fensa certificate for your windows? Here's how to get a certificate retrospectively
If you don't have a FENSA certificate you have two options available:
1. You can apply to your local authority for a 'Retrospective Building Regulation Compliance Certificate'. This route can take time and costs between £300 – £400.
2. You can take out double glazing building regulations indemnity insurance, as long as the work was completed more than a year ago.
What is indemnity insurance for windows and doors?
Double glazing indemnity insurance for windows and doors can be taken out by homeowners if the installation was completed over a year ago. Typically ranging from £180 – £500, this type of indemnity insurance for windows without a Fensa certificate will protect against loss if your local authority enforces alternations or the removal of the double glazing. You can apply for professional indemnity insurance online.
How to get a replacement Fensa certificate?

If you have lost your Fensa certificate, a replacement Fensa certificate can be ordered online. You can request a copy of the 'original' certificate on Fensa's website. You'll be asked for details about your property, and as long as the double glazing installer registered the installation with Fensa, the works that were completed will be recorded in their database.
If you are unable to order your replacement Fensa certificate online, a solicitor will also be able to obtain a replacement or duplicate certificate on your behalf. However, this is likely to take longer and is a more expensive option for getting your Fensa accreditation document.
How much is a Fensa certificate?
Reputable Fensa installers will most likely include the cost of a Fensa certificate within your overall quote, so you don't need to worry about any additional costs.
A replacement Fensa certificate costs £25 including VAT and will be sent to your home in 7-14 days.
Fineline Windows are Fensa registered Fensa installers in Maidstone, Kent
As acclaimed Fensa accredited installers (Certified FENSA Company Number: 11448), we've provided an unrivalled service for over 50 years to homeowners. If there are any other glazing industry terms you're not sure about, contact us today for an in-depth explanation and any other double-glazing related support you may require.
Related to this post: 25 questions you must ask your installer before replacing your windows