Back to news
What is a conservatory clad over roof and why should you avoid them at all costs?
25 November 2019 |Advice & Guidance

Conservatories make the perfect accompaniment to homes in need of more space to comfortably raise a growing family, as well as entertain, work and relax in. In recent years, tiled conservatory roofs have become the ideal way to transform existing or new conservatory structures into spaces that can be used all year round – without having to worry whether it'll be too hot to use in summer or too cold throughout the winter months. However, a swathe of unscrupulous 'conservatory insulation' companies are exploiting this ever-growing need for extra warmth and privacy, by offering a sub-standard version known as the conservatory clad over.
What is conservatory roof cladding?
Marketed as a cheaper and quicker option than a complete conservatory roof replacement, a combination of insulation, timber, tiles, and plasterboard are placed directly over old polycarbonate or glass conservatory roofing.
Can you clad a conservatory?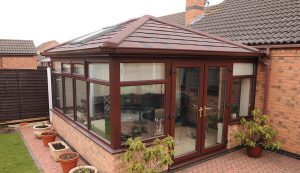 As the saying goes, there are no shortcuts to success. This is very fitting when it comes to the controversial topic of conservatory clad over roofs.
What sounds like a 'quick fix' that will save money, is actually an incredibly dangerous building practice. Often conservatory clad overs will end up costing more, in the long run, to put it right. This is because conservatory clad overs precariously weaken the conservatory structure, whilst impairing its essential ventilation elements.
The method of installing a conservatory clad over typically follows this process:
Drilling into the conservatory glazing bars
Adding extra insulation
Fixing timber to the glazing bars
Adding a thermal quilt
Adding PVC cladding
This technique involves many risks, most notably:
Conservatory roof collapse
Increased fire hazards
Increased chance of condensation, damp and mould
Leaks
Guarantee and warranty invalidation
What is conservatory interior cladding?
Some conservatory roof installers offer conservatory interior cladding as a solution, however, it comes with many problems so we suggest avoiding this option completely.
Some of the common problems with conservatory interior cladding include drilling into the glazing bars of the roof can reduce their rigidity and strength. There is also a lack of fire protection with interior cladding as they are not fully fire tested. It can also invalidate your conservatory guarantee as it's not part of the original extension structure, so in the likelihood of any problems, you won't be protected.
How do you insulate a conservatory?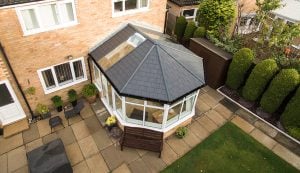 The safest way to insulate a conservatory is with the help of high-quality products and services from FineLine Windows. Identical to real tiles, with optional glazed panels for the best of both worlds, further insulation can be added to our tiled conservatory roof replacements in the form of a superb plastered ceiling for the ultimate finishing touch.
How can I make my conservatory warmer in the winter?
Guaranteed for 10 years for complete peace of mind, our high-performance tiled conservatory roof replacements are the safest and most economical way to transform your tired, uninhabitable conservatory space into an enviable haven you'll never want to leave.
If you still want to make your conservatory warmer throughout the winter months, you could also consider blinds, rugs, infrared heaters, deep-pile carpets, underfloor heating, and comfort glass. If all else fails, it may be time to start from scratch with a brand new bespoke conservatory, orangery or full home extension.
Quality tiled conservatory roof replacements Kent
Now that you understand how detrimental conservatory clad over roofs can really be, take the safest route to a conservatory space that can be used all year round by contacting the FineLine team today.