Back to news
Sue & Roger's Gorgeous Detached House
13 August 2014 |Home & Garden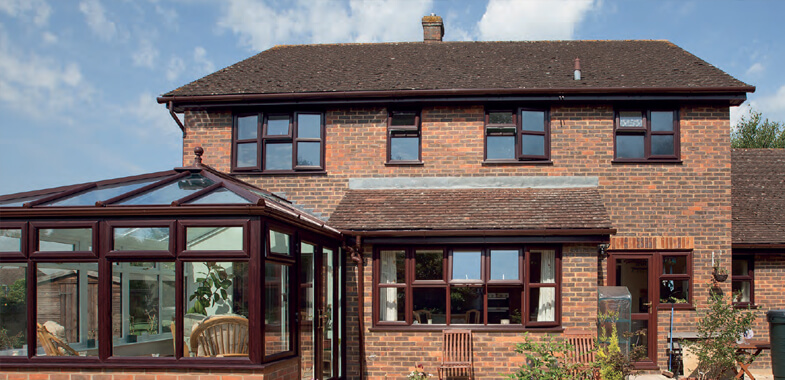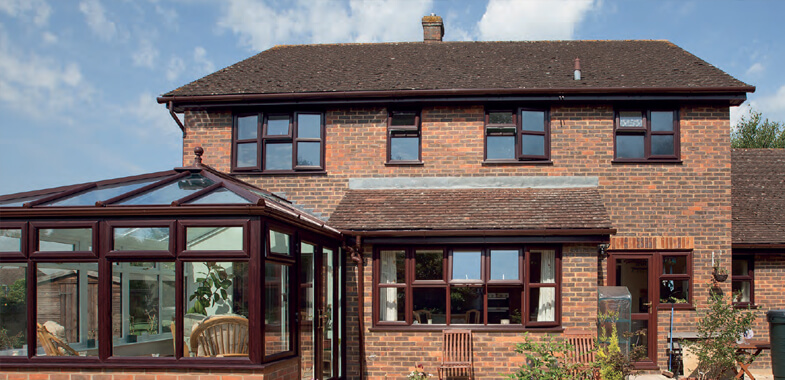 FineLine Windows recently completed a windows, roofline and conservatory project for Sue & Roger from Maidstone's detached house. The challenge was to carry out the window, roofline replacement and conservatory build whilst keeping in-line with the existing design and feel of the property.
The conservatory was completed in rosewood with a white interior, providing a stylish exterior that matches the existing property but a bright and welcoming interior that creates an inviting room inside as it reflects the light. A blue self-cleaning glass roof eliminates the time-consuming job of trying to keep the conservatory looking its best all year round.
The conservatory also incorporates down lights to allow the conservatory to be used in the evening and be atmospheric and welcoming for Sue, Roger and their guests. To ensure the conservatory is comfortable during the summer months, all fanlights have an opening in the conservatory and there are also two roof vents to allow for plenty of ventilation – meaning no overheating! A darkwood composite door with a rosewood outer frame meanwhile, ensures maximum security and style.
FineLine also replaced the windows within the house. Windows were installed with a dummy transom to match the old existing windows so the home could benefit from new more efficient windows without disrupting the existing exterior of the home. The white interior of the windows allows the inside of the home to remain bright and fresh looking which is also a neutral colour that goes with any room.
This project is a perfect example of how new modern windows and conservatories can be fitted to older homes and still match in perfectly and increase energy efficiency. Making them a suitable choice for any home.