Back to news
Sister company, SEHBAC storm ahead in the award season!
28 November 2017 |Company News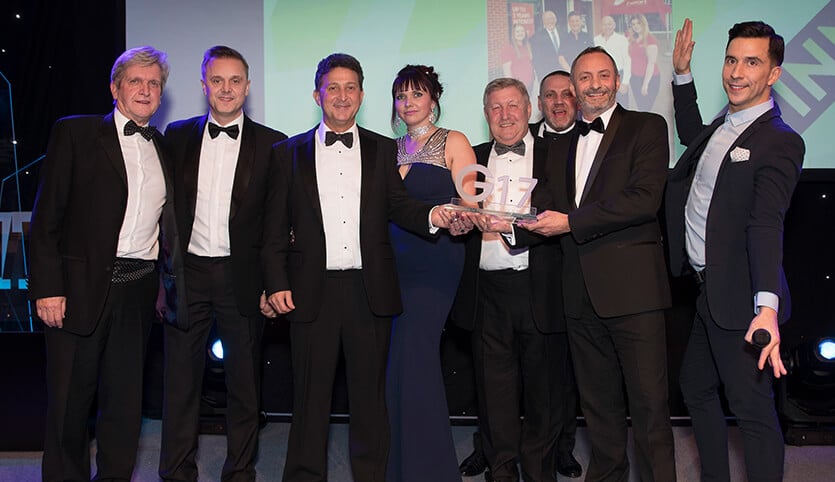 It's celebration time for our sister company, SEHBAC. At this month's G-Awards, they were winners of the Promotional Campaign of the Year for Retail award and the coveted Installer of the Year award. This is well deserved reward and recognition for an exceptional year of trading where the business has gone from strength to strength.
Respected industry accolades
The G-Awards celebrate professionalism, product quality, and customer service across the glazing industry. They are independently judged by impartial industry experts and are the most sought-after awards in the fenestration world. To win not one but two G-Awards is testament to the outstanding levels of service provided by SEHBAC.
As part of the holding company, One Group Construction; FineLine and SEHBAC share the same professional values of outstanding customer focus, staff development, and an emphasis on high quality products and exemplary installations. Both companies promote an aspirational culture where excellence is rewarded, and progress is supported. As double glazing installers in the south east of England, we want to set a precedent for developing our employees and providing our customers with the best possible service.
A special night of celebration
The G-Awards ceremony was held on the 17th November at the Hilton Hotel on Park Lane in central London. The prestigious location was matched only by the entertainment provided on the night. Finalists were treated to a sumptuous Gala dinner with champagne refreshments and entertained by celebrity host, comedian Russel Kane.
The event was a complete success and has helped to promote a professional image across the glazing sector. At FineLine, we wish all the team at SEHBAC our sincerest congratulations. 2017 has been a record year of success for both FineLine and SEHBAC, so we look forward to the new year with positivity for our combined future prosperity.