Back to news
Planning your new home improvements? We have £1million of discounts – limited time only!!
5 March 2018 |Blog
Spring is finally here! The last of the snow has melted and it feels like the warmer weather is just around the corner. The spring is the most popular time of the year for making home improvements. The finer weather means that delays are less likely, and your renovations will be less disruptive to your home life. At FineLine, we want to help you to get a step closer to creating your dream home. To help ease the costs, we're offering some superb discounts for all our customers.
Grab a bargain now!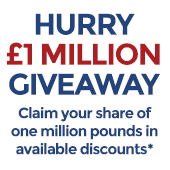 For a limited time only, we are offering our customers £1million worth of discounts on all our products. The scheme is running on a first come, first serve basis and once it's over, it's over for good. Act quickly to upgrade your windows and doors or perhaps extend your home with a stylish and spacious conservatory.
For the first £1million of sales, customers will receive excellent discounts on all purchases. All windows and doors will be reduced by 25%. While we're offering 10% off the price of any conservatories. This equates to some massive potential savings, so now is the time to make the call. All discounts are for a limited time period and full terms and conditions apply.
Come along and see for yourself
If you'd like to get a feel for the quality of our products, come along to one of our stylish show centres. Located in Dartford and Maidstone, they're both easily accessible and contain an extensive selection of our high performing products.
At our show rooms there's always a friendly and knowledgeable member of our team to offer advice and answer any questions you may have. Find out all the information about our windows, doors, and conservatories, and learn more about our excellent discounts. When you want to improve your home, FineLine are the company to call. To share in our £1million reductions, contact us today. Call 01622 631613 or send us a message online.