Back to news
Modern front door ideas to make you want to upgrade yours!
29 August 2019 |Blog
Whilst your front door might do an adequate job of keeping your home secure and warm, our modern front doors will do so better. Of course, performance isn't everything, and it's essential that a new door looks the part too. So, with that in mind, here are some modern front door ideas that are bound to make you want to upgrade yours!
Front door ideas for UK homes
When it comes to choosing a new front door, the design options are endless. Whether you reside in a listed property, a modern new-build or a popular red-brick terraced home, get inspired with our front door design ideas. Down to the finishing touches, we've got an array of front door ideas to add kerb appeal and home value for any personal tastes.
Oak effect aluminium door
Despite being finished in a traditional oak effect, the short bar handle, stylish chrome design and minimal glazing are distinctively modern. So, this gives this particular aluminium front door a look that is anything but traditional. Regardless of the mixture of old and new, however, the end result is a good one.
Purple uPVC front door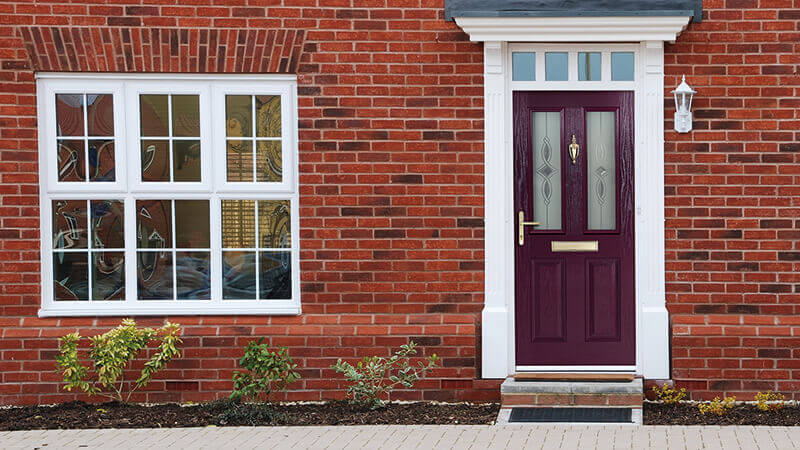 The vibrant purple front door colour gives this door a sense of grandeur whilst instantly drawing any eyes to it. Purple uPVC front door designs are highly sought after with homeowners across the UK, because of their sophisticated style that can easily suit any type of property. This is complemented by a slimline door knocker and Chrome furniture, giving the door a modern feel whilst the bevelled glass sidelights evoke a more traditional vibe – this purple uPVC entrance door is really a great example of when classic and contemporary meet.
Black composite door with top and sidelights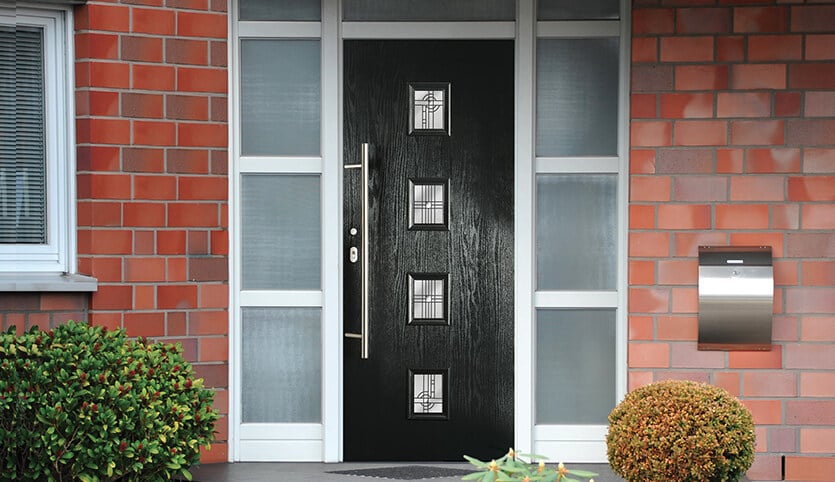 If you're looking for to dramatically improve your home's security and thermal performance as well make it better looking, you can't go wrong with a black composite front door like the one pictured above. Black is a strong and sophisticated colour that not only blends in well with most property styles but looks great whilst doing so.
Teal aluminium front door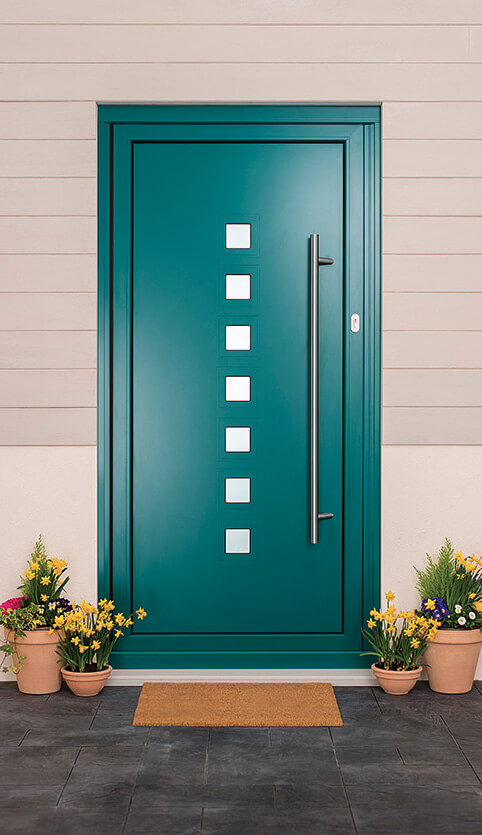 The teal finish on this aluminium entrance door is not only highly unique but it looks absolutely incredible. Its appearance is also further enhanced by a modern bar handle and minimalist glass design. The front of any home is bound to stand out with one of these fitted.
Light grey timber front door
The light grey finish looks incredibly fresh but very calming, allowing the door to blend into the surroundings incredibly well. This particular example is also an excellent demonstration of a classic door design being complemented beautifully by suitable hardware – in this case, the swan handle and ring knocker. The result is a very stylish timber front door.
Chartwell Green uPVC door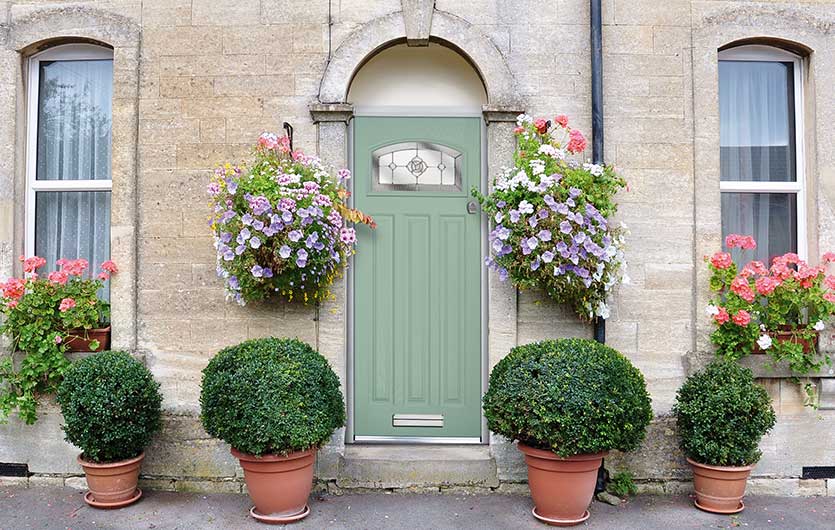 Chartwell Green is one of the most popular door colours at the moment. Lighter than a conventional green, this vintage-looking shade complements the heritage style of this uPVC door beautifully.
These days, you really are spoilt for choice when it comes to your front door. We offer modern front doors in a variety of materials, a mixture of classic and contemporary styles and various colours. So, it's easy to find something that meets all your practical and aesthetic requirements.
If you're interested in upgrading your front door, why not pop down to our Dartford or Maidstone showroom for more inspiration? If you already have a door in mind, however, you can give us a call on 01622 631613 or contact us online.