Back to news
Guide to replacement conservatory windows, doors, and roof
15 August 2017 |Advice & Guidance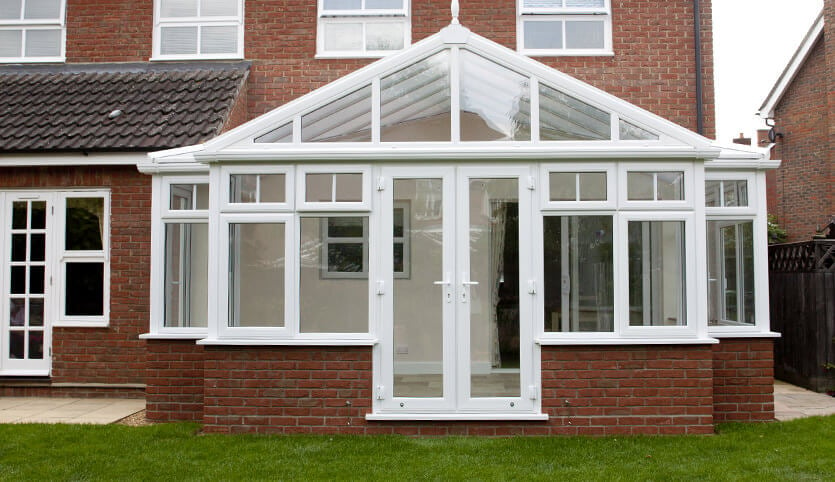 Do you have a conservatory installed at your home? Or are you about to move to a property with an existing conservatory? Either way, over time, your conservatory will become worn, weathered and not as high-performing as it once was. Find out if it's time to replace your conservatory windows, doors or roof.
A guide to whether it's time for a replacement conservatory
Our experts have written this guide to explain the signs that your existing conservatory isn't functioning as it should. It's a simple process to upgrade its performance, including installing new conservatory windows, doors or a new roofing system. You'll no longer experience problems of draughts entering or it being too warm in the summer. Another benefit of a replacement conservatory is that it will add home value to your property.
Fortunately, at FineLine, we can help you to revitalise your conservatory. With replacement conservatory windows, doors, and roof; you'll soon be enjoying your extended living area to its full potential.
Change the roof design
If your conservatory has a flat or sloping roof, upgrading to a pitched roof will transform the look, feel, and performance of your conservatory. If you want a more permanent feel to your conservatory's interior, install a LivinRoof. A LivinRoof creates a vaulted interior ceiling with solid plastered perimeter while incorporating as many glazed panels as you require. You'll soon benefit from improved insulation without compromising on natural light intake.
Signs it's time for a replacement conservatory windows, doors and roofs
| | | |
| --- | --- | --- |
| Conservatory Windows | Conservatory Doors | Conservatory Roof |
| Single glazing | Single glazing | Recurring leaks |
| Recurring leaks | Recurring leaks | Covered with moss or algae |
| Misting / condensation in-between panes | Misting / condensation in-between panes | Draughts |
| Cracks or chips in the glass | Cracks or chips in the glass | Cracks or chips in glass roofing |
| Draughts | Draughts | Drooping or Sagging |
| Rotting, warping, rusting or peeling | Rotting, warping, rusting or peeling | Lots of missing tiles |
| High energy bills | Visible light under, between or around the doors | Light coming through tiles |
| Difficulty opening or closing | Difficulty opening or closing | Pest infestation |
| Loss of soundproofing | Lock issues | Made from old polycarbonate |
Replace your conservatory windows
Installing modern energy-efficient windows into your conservatory will boost your home's thermal performance. You'll be able to enjoy your conservatory all year round, whatever the weather; and save money on considerably reduced heating bills. All our windows are available in timber, uPVC, or aluminium, so there's sure to be the perfect window to suit your home.
You could choose to retain the current style of your existing conservatory windows or upgrade its appearance with a more modern conservatory window style.
Can you replace uPVC conservatory windows?
uPVC is the most popular conservatory frame material, and uPVC conservatories tend to be fitted with uPVC windows for a seamless design. Modern uPVC windows are available in a range of styles and designs, providing many options if you are looking to replace your conservatory uPVC windows. From stunning casements to traditional sash windows, they'll add significant home value and improve your current conservatory's aesthetic appeal.
Change your conservatory doors
At FineLine, we have a wide range of home entrance doors to choose from for replacing your conservatory doors. When you're tired of your existing conservatory doors or their seals have failed and are draughty, or their locking system has become stiff or difficult to use; a new door style can dramatically change your conservatory.
Install bi-fold doors for an ultra-wide opening and innovative fold-back functionality or choose sliding patio doors if you want an effortlessly smooth operation and large glazed sections for your new conservatory doors. Whatever your preference, all our entrance doors for existing conservatory extensions provide excellent levels of energy efficiency and superb security standards.
Can you install French doors into a conservatory?
If your conservatory doesn't currently have French doors and you are looking to install them into an existing conservatory, then luckily for you this is an easy installation. You can choose from a number of French door colours and styles to suit your personal preferences. French doors are perfect to blend your garden and conservatory, and the large glazed panels will let plenty of natural light into your glass extension.
Replacement conservatory windows, doors, and roof
At FineLine, we are experts in conservatory refurbishment. We have helped hundreds of homeowners to create the conservatory they always dreamed of. If your conservatory needs an uplift, we can help with all your conservatory refurbishment requirements.
Alternatively, if you don't already have a conservatory and you'd like to find out more a brand-new conservatory installation, we offer a wide range of conservatory styles and designs. Our range encompasses a plethora of products, so there's sure to be the perfect style to suit your home. For more information about FineLine and how we can help with your home improvement plans contact us today. Call us on 0808 231 7277 or send us a message online.