Back to news
What Are The Different Types of Conservatories?
26 June 2014 |Advice & Guidance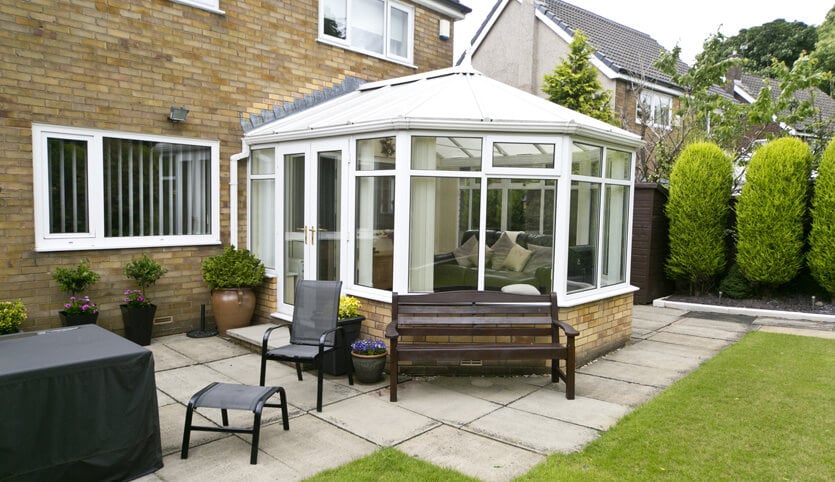 So, you're interested in getting a conservatory in Kent but next comes making your decision between multiple styles and designs. It's not until you do your research on available conservatories that you realise quite how much choice there really is!
There are a range of conservatory types and styles
There are many conservatory styles to choose from. The choice you make will depend on your personal taste, the size and position of your home, and what you intend to use your conservatory for.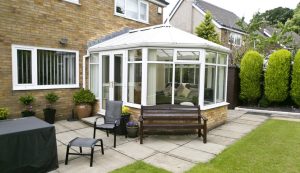 The choice is vast and can be fully bespoke to you with your choice of material. This means your conservatory is fully unique to you. But there are a variety of designs you can base your design off and begin from.
Conservatory styles are unique to each homeowner. Whether you're looking for a classic white uPVC conservatory, a heritage wood effect conservatory, or a modern grey glazed extension, we've got a type of conservatory to suit your personal preferences. The beauty of glass extensions is their versatility, so the customisation options are endless.
What are the different types of conservatories?
There are plenty of types of conservatory extensions on the market, and they can all be uniquely designed in a range of designs, colours and material.
Types of conservatories:
Loggia conservatory
Combination conservatory, e.g. T-Shaped conservatories & P-Shaped conservatories.
Let's talk through the different types of conservatories available in more detail.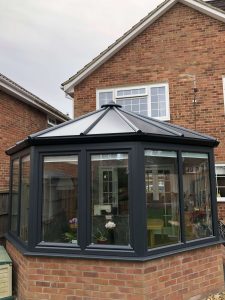 Victorian conservatory
Victorian conservatories are the most popular style of conservatory. Distinguished by their pitched roof, three or five facets, and curved appearance, Victorian conservatories provide maximum space. This conservatory style is classic and effective, suiting Victorian properties and beyond with its comforting and elegant feel.
Edwardian conservatory
Similar to Victorian conservatories, an Edwardian conservatory has a rectangular floor plan that maximises internal space. Edwardian conservatories are an ideal style if you want a classic style of conservatory with a timeless appearance. With its four-sided pitched roof and bright open space, it provides the perfect space to relax and enjoy a bright open space.
Orangery
Similar to Edwardian or Victorian conservatories, orangeries have a rectangular floor plan to maximise internal space. Orangeries have a traditional elegance that sparks from their conception when they were used amongst the aristocracy to grow exotic fruits at their stately homes. They typically have solid brick pillars and large glazed windows, creating a great open bright space.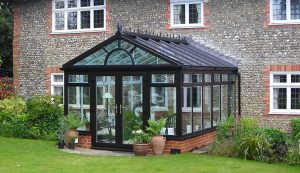 Gable conservatory
Recognised by its rectangular floor plan and triangular front, Gable conservatories have front windows that extend to meet the roof which helps to maximise the feeling of light and space, creating an incredibly stylish space.
Loggia conservatory
Inspired by the Italian renaissance period and combined with British innovation, a Loggia is an ideal addition to any home. Featuring a roofed gallery or recessed room open to the air on one side and supported by ornate columns, the Loggia conservatory takes inspiration from this and adapts it to sync perfectly with British architecture. This allows the Loggia design to suit old and new properties alike – redefining the conservatory.
Lean-to conservatory
Lean-to conservatories are rectangular with a roof that leans onto the main property and is truly becomes like an extension of your home. Uncomplicated and suitable for a wide range of house styles, it is quick and easy to install as well as being a practical and less expensive solution.
Combination conservatory
A way of creating a conservatory that is truly bespoke to you and your home. Combination conservatories usually have a Victorian, Edwardian or Gable design which is linked in harmony with a lean-to style allowing you to create a conservatory exactly to your tastes.
T-Shaped conservatory
T-Shaped conservatories are a hybrid glazed extension design. Combining a central projection that opens out into the garden, it can be Victorian, Edwardian or Gable styled. Providing a symmetrical feel, T-Shaped conservatories are perfect for larger properties that need extra space and light.
P-Shaped conservatory / L-Shaped conservatory
The ideal accompaniment to large detached properties. P-Shaped conservatories are another hybrid conservatory design, combining the lengthy lean-to style and a 3 or 5 faceted Victorian section.
L-Shaped conservatories are a variation of the P-Shaped style, uniting lean-to and Edwardian conservatory styles as one to create a symmetrical hybrid conservatory design.
Modern flat roof extensions
Available with several square or rectangular sizes to suit your specific project, our modern flat roof extensions deliver attractive uninterrupted sightlines combined with modern flat skylights or an elegantly styled pitched lantern roof perfect for more traditionally styled South East homes. Flat roof conservatories are the ideal choice for reducing the sun's glare and controlling the temperature whilst still flooding the space with natural light. Custom design options include an extended internal plastered soffit system, a modern overhang on the roof to shelter the doors, and level external flooring options to seamlessly connect with outside spaces.
Eye-catching conservatory styles | Types of conservatory extensions for any property
So, now you've got an overview of the conservatory styles available to choose from, it's up to you to decide which conservatory style best suits your home.
At Fineline, we can advise on the perfect solution for your conservatory extension and design a new living space down to the finest details. Get in contact with one of our expert designers and begin your home improvements journey today.